CCCNY is located at the south western corner of Central Park West and West 96th Street in the Upper West Side of Manhattan, at: 6 West 96th Street, New York, NY 10025

By C train:
Get off at 96 St. station, and walk up the stairs. The church is cross the street from the Central Park and on the same side of the subway entrance.

By 1,2,3,9 trains:
Get off at 96 St. station at Broadway and West 96th Street. Then walk toward the east passing Amsterdam Avenue, and Columbus Avenue. The church is on your right hand side right before you hit Central Park West.


*All trains are available at 59 St/Columbus Circle station transferring from Lower Manhattan, Queens, or Brooklyn. 9 train is not available during weekends and off-peak hours. See subway map for schedule.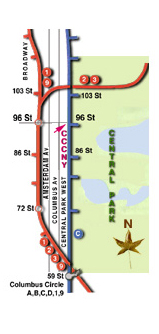 By car(from East Side of Manhanttan):
From FDR Drive, exit at East 96th Street. Travel on East 96th street until Madison Ave. Make a right turn onto Madison. Make a left turn onto East 97th street. Enter the East 97th street traverse to cross Central Park to the west side. At Central Park West("CPW"), make a left turn onto CPW southboud. Drive one block. Church is on south side of the west 96th street(don't confuse our churchwith with the one on the north-west corner of W96th St. & CPW) .

By car(from West Side of Manhanttan):
From West Side Highway , take exit for West 96th street(not W95th St.). Drive up West 96th street until Central Park West(CPW). Church is on your right, West 96th street.